I've always been a fan of Arctic Silver 5 since it came out about, oh, 100 years ago. Yeah, I'm getting old. I've tried many of them and the Arctic Silver 5 always performed nearly as well if not better than the latest 'space age' pastes. What I like about Arctic Silver is that after storing a computer in a garage for 6 years, the Arctic Silver 5 was still good. This shit lasts virtually forever.
Anyway, the newest 'space age' paste drew me in. I'm going to test Arctic Silver 5 with the newest Arctic miracle paste, the. . .wait for it --
ARCTIC MX6!
(As you all
probably know, Arctic is not the same company as Arctic Silver. I didn't know that until I started researching it.)
Anyway, I actually contacted Arctic Silver and asked them where I could purchase authentic Arctic Silver 5. I bought some from
Platinum Micro,
, which is an authorized reseller. The Arctic Silver rep said

Arctic Silver

source it directly from Arctic Silver, so it's the good.
I also bought some MX6 from Arctic itself, so again, it's the good.
I'm going to test it with my rad fan at 100% in idle and under P95 stress. Then I'm going to test it with the fan at 50% at idle and under stress. It's the best i can do. I know it would be better to have a system where the CPU is bouncing off its thermal limits, but I have what I have. I'll test it using a laser thermometer aimed at the table the computer is on several feet away from the computer. I did that a couple nights ago and the table was the same temperature as my home digital thermostat reported. Again, that's the best I can do.

Anyway, I'll post the results above. If anyone has any test parameters I should use, please post!
___________________________RESULTS__________________________

​
Not too surprising, AC5 did really well, although the MX-6 is better. However, it was about a 1C difference between the two at idle and max heat.
CASE: Thermaltake The Tower 100 (One fan, which was the radiator fan)
Cooling: Enermax 120 AIO with the included Enermax 120 SQu 2200RPM fan. No other case fans.
CPU: Late Gen 3600 fresh from AMD (12/2022)
Parameters
I took a ambient reading using a laser probe about 2 feet from the computer on the table. It registered 21.8. I took several reading throughout the tests and they varied by 0.2 C.

​

I used HWiNFO64for the numbers. I used max and min heat readings.

​

Prime 95 on max heat setting

​

After each max heat run, I let the PC idle until the lowest temp was reached. I shut down all foreground programs, such as browsers, streaming programs, and file explorers.

​

Paste application was the same for both pastes.

​

MAX Heat was tested with fan and pump at max

​

Idle Temps were taken with fan and pump at 100% and then at what is silent for me, which is fan 50% 1200RPM and pump 66% 2200RPM

​

Runs were 12 minutes each.

​
PASTE TEMP DIFFERENTIAL
There was about a 1.5C difference in favor of the MX-6 paste.
PROBLEMS WITH TEST
Test configuration never really gets hot and either paste may perform worse of better as temps increase beyond what I tested. Also, the difference in this test did not show any statistically convincing difference, even though the max and min temps both showed about a 1C to 1.5C difference in favor of MX-6.
SHOWN AS TESTED
TEMP PROBE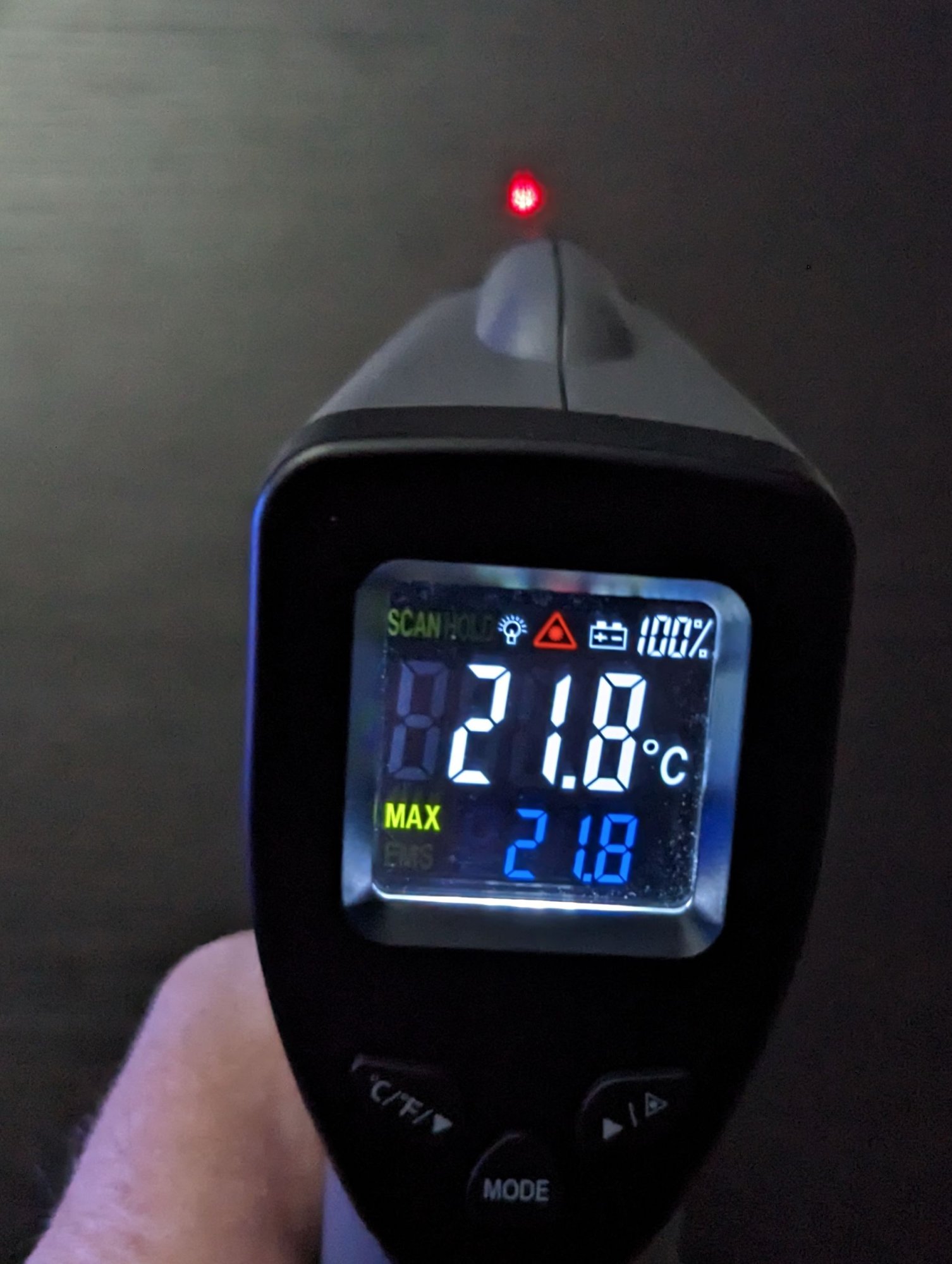 PASTE APPLICATION
MAX TEMP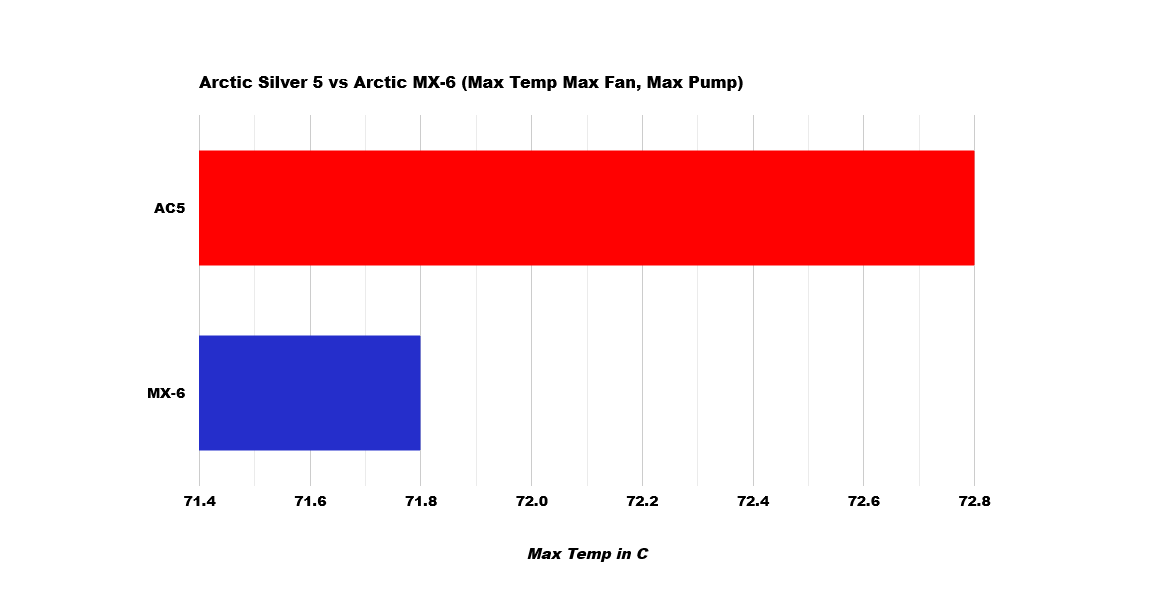 MINIMUM IDLE TEMP FAN/PUMP 100%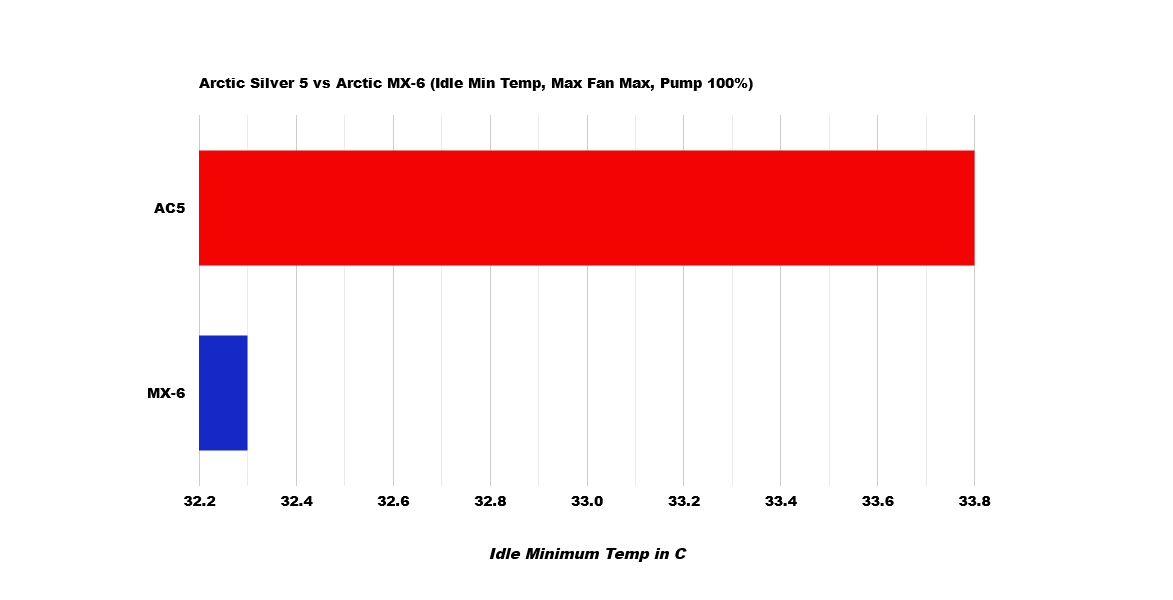 MINIMUM IDLE TEMP FAN 50%, PUMP 66%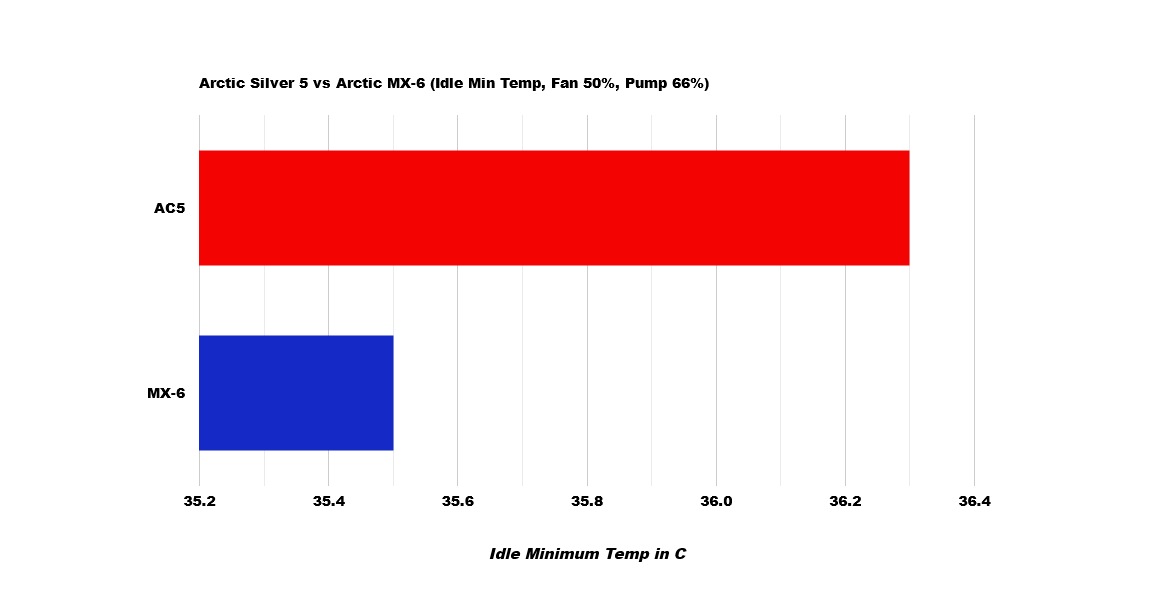 Last edited: